Tuesday, 23 May 2017
Read Matthew Lewis'
The Monk
a good while ago. Ponderous but in its day absolutely shocking! Judging by what some bloggers have written they have
never
read the book!
I am now, if my failing eyes let me, trying to read the 551 pages
The Skeleton Crew, or, Wildfire Ned
(published 1866~1867).
Mad does not cover it but if you are not used to Victorian prose as used in "Penny Dreadfuls" look out!
I do hope I survive to the end.....of the book!
jjjjjj
Monday, 22 May 2017


Back in 2011, because it seems that everyone had forgotten him, and the legendary character he created,
Garth
, I re-posted an interview the late Denis Gifford conducted with
Steve Dowling.
My Britcomics group and British Golden Age Comics sites were the only places where anyone could find photographs of Steve. Since that time, as is always the way, the photographs have been pilfered repeatedly and writers 'anecdotes' have been stolen from this interview. I know this because Dowling only ever got interviewed once as no one thought him important because he was not Asbury, Allard or Bellamy -most people seem to think Bellamy created
Garth
!
According to a family member, Steve had very little money after he was forced to retire (obligatory under company law -supposedly since it never stopped Giles from continuing on) and his younger family members had no idea he had been a working artist. In fact, after his death, apart from one or two drawing he had made for youngsters,the family had no samples of his newspaper work. Piers Morgan at the Daily Mirror, that had published Garth, made no secret that he detested newspaper comic strips. When I spoke to him on behalf of the Dowling family (whom the Daily Mirror had already refused a request from) it ended with him saying "Why are you bothering me with this rubbish?" and he put the phone down.
So called British comic 'experts' also refused to get involved or track work down -it was one of the reasons that I set up the Yahoo Britcomics and British comic Book Archives groups. No creator should be forgotten or treated as though their original work had no value when compared to the later 'stars'.
Before I get too angry -here is the interview!
Steve Dowling -Father Of GARTH!
Around 1999, I had an email from the grandson of Steve Dowling who was living in Canada. I learnt that Steve had been bumped out of his job simply because he had reached 65 years of age (only in the UK!). He then spent many years living off a poor pension. Steve had no original art from his newspaper strip days to show his family -it's why I was contacted because of my British Comic Books Archive project.
Apparently the family had asked the Daily Mirror newspaper if it could just get some photocopies of the pages for themselves. No. They asked then editor Piers Morgan (can I spit?) who basically responded that he had no time to waste of dumb comic strips (his hatred of them is well recorded).
I lost the email from the family when my old computer blew. IF Steve's family in Canada read this then I have Garth strips I can offer on share file.
Published in 'Ally Sloper' #1, 1976, and reprinted in 'Comic Bits' #1, 2001. Denis Gifford conducts an on-stage interview at 'Comics 101′ on 20 March 1976 with Garth creator Steve Dowling, who died in 1986.
STEVE: I might say that it's been more than worthwhile to come all this way, because I thought nobody knew me any more, let alone thought me worthy of an award! Everybody's been so kind to me and said so many nice things that I've really been rather overwhelmed by it all. Thank you very much, everyone.
DENIS: Well, we'll get on to the British newspaper strip, which you were almost solely responsible for. You worked under several different names and different styles. How did it all start?
STEVE: It started by my going riding with a friend who did a strip called 'Tich' in the Daily Mirror, the ideas for which were supplied by my brother, Frank. Coming back from this event, rather full of liquor, unfortunately there was a car accident and the artist, Martin, died. And so I had to step into his shoes and was plummeted into the strip business in a rather shaky condition, having gone through the roof of a car! 'Tich' ran for some years. [from 1931 - DG]
DENIS: But you were an artist before this?
Steve Dowling receiving an Ally Sloper award from Denis Gifford and Bob Monkhouse at Comics 101
STEVE: I was in advertising. As a matter of fact, I was at the time Assistant Art Director for Dorland Advertising at the age of 24. I gave up my job at Dorland's because I could do 'Tich' in one day a week – there were very few lines in the thing, very slick little drawings – and then I could go down by the seaside and put my feet up for the rest of the week, which was very nice indeed!
DENIS: There were strips in the Mirror before 'Tich', 'Dud' and 'Jinks' and so on – but after 'Tich' strips seem to blossom.
STEVE: Well, old Guy Bartholomew who was chairman of the Mirror was mad hot about strips. Having been an artist himself he regarded the strips as the main part of the paper. His opinion was that most people couldn't read, anyway, and liked looking at pictures!
DENIS: What was the genesis of 'Ruggles', your first real strip?
STEVE: I think having seen American continuity strips. I got the idea for this character 'John Ruggles', an ordinary chap, and my brother who had quite a gift for humorous writing,wrote the words. In point of fact I think 'Ruggles' was the first continuity strip to appear in a national daily. The others were all daily incidents. The idea of having a serial story run in picture form was new in this country, although, of course, it had been done in America. I remember Cecil King, who was rather small-fry then, always wanted me to make 'Ruggles' build a shed in his garden, because his 14 year-old son had suggested the idea! If I had taken King's advice 'Ruggles' garden would have been so stiff with sheds that he wouldn't have been able to move!
DENIS: Did you sit down and create 'Ruggles' as the average man with an average family?
STEVE: Very average! In fact we were trying to write down to the readers, a thing one should not do! Trying to make the strip as like the family life as we could. After a time my brother gave it up – he became the editor of the Picture Post instead – and I took it over. I tried to strengthen the storyline and some of the humour went out of it.
DENIS: Why did you sign it with a pseudonym: 'Ruggles – by Blik'?
STEVE: Oh, that was just a short name like: 'Tich – by Dart'.
DENIS: And: 'Belinda Blue Eyes – by Gloria'?
STEVE: Oh, I was just one of a long line of Glorias! That was actually written in the first place by Bill Connor, who later became Sir William, 'Cassandra'. He wrote it to order for Bartholomew the chairman. Everybody took a hand in those days. Basil Nicholson, the editor, who was the man who re-modelled the Mirror, his idea of having a comic strip was to have a different person every day slipping on a banana skin. One day a clergyman, the next day a policeman; he thought that was the level of public understanding.
DENIS: Later 'Ruggles' featured the public actually in the strip. How did that unique series come about?
STEVE: They thought the strip was flagging a bit and Philip Zec, who was then the strip editor, asked me to come up with a twist. Well, Wilfred Pickles on the radio was then 'Meeting the People' and I thought I would try this in strip form. I took some roughs into Zec, who didn't think much of the idea. He took it to the chairman, and next day I got a telegram from Zec: "Please draw some more along the lines I suggested." Well, I did, and Zec got into trouble for claiming it was his idea – it became the chairman's idea! But I must say that the idea eventually reverted to me – when they found that the series didn't go down very well!!
DENIS: Why did 'Ruggles' come to an end?
STEVE: Well, they felt it wasn't pulling. They asked for letters and, of course, more people will write and say they don't like a thing than those who do, so 'Ruggles' went.
DENIS: And so, we come, at last to Garth. How and why did he begin?
STEVE: I had been writing and drawing 'Belinda . . .' and not enjoying it very much. Then they found another artist, Tony Royle, to take it on, so they asked me to produce another strip in order to justify my salary. It took me about three months to think up Garth and draw the first three weeks' strips. The chairman thought that was rather too long – so he docked my pay!
DENIS: Did you set out to create a British equivalent to 'Superman'?
STEVE: No, 'Terry and the Pirates' was my great influence, if anything. I was rather interested in Tibet, and the Forbidden City, and the magic that was there. For instance, in the beginning Garth was resuscitated by the 'kiss of life' from a rather attractive young woman called Gala. Well, the 'kiss of life' was not known here then, but I had read about it in a book on Tibet.
DENIS: Garth was a man of mystery. Did you have a solution in mind from the start?
STEVE: Oh, no. I had no solution at all. I had no more idea who Garth was than the reader!
DENIS: One mystery was that Garth drifted in from the sea, and there is no sea around Tibet!
STEVE: Artistic licence!
DENIS: Another striking feature was the constantly bared bosom of one of Garth's girlfriends.
STEVE: One had to fight to show a little in those days.
DENIS: A "little"? I'd call it a lot! I suppose the exposure was very calculated?
STEVE: Oh yes. I certainly enjoyed drawing it.
DENIS: Why did you stop drawing Garth?
STEVE: I had to. I was freelance up to 1949. Then I joined the staff to get a pension, and when I reached the age of 65 I had to go. That was the rule, so I went.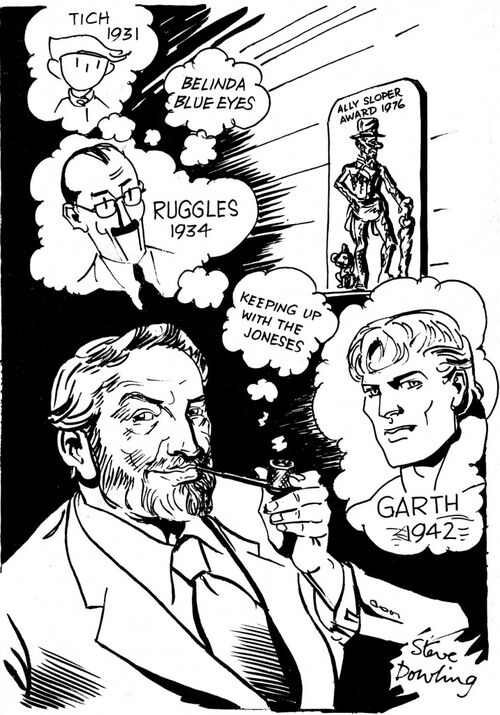 Self drawn illo for Ally Sloper Magazine
And that, my friends, is how it ends. Sad, but at least Steve realised how much his work was loved by fans and he deserved even more than that Ally Sloper but....


Published by Martin Kelter Verlag, based in Duneburg, Germany (surprise!)

the Checkpart series was a

sub-

series

of futuristic

thrillers.

The subtitle

was

: World Super Crime 2000 or Checkpart Mit Dem Special Globe Guard Team.

The series itself was

conceived by

Kurt

Brand

. P

ublished between

1970

and 1972 there were 54 of these 66 paged (double columned) prose stories.
The

series consisted of

54

booklets

with the cover price of

90

Pfg,

but at

issue

44 it rose 10 pfg to

1.00

DM.

So, you might ask:"How do you have issues 151 and 153 then?" Good question163 stories in the series -the ones I have are right toward the end of the run. A trifle brusque, but good question. You see, there were 54 issues featuring the SGG but as I mentioned, they were a sub-series that started in Kelter Krimi Nr. 57 with "Top Und Das Killer-Girl" ("Top And The Killer Girl") by Torsten Reschke.
Got it? Good.
At the top of the posting you'll see the original title banner with World Super Crime 2000 and, below, the later banner with Mit Dem Special Globe Guard Team.
Nr. 153 "Ein Fuchs wie Aso Tokyo" ("A Fox Like Aso Tokyo") by Konrad Schaef-another British actor but I cannot remember his name. Neither of the films these stills are taken from have been on TV for a long time
.
I love the stills from movies used to sell the books -no doubt to attract the eye from all the other publishers' titles that used to fill news vendors shelves. There was Richard Widmark, Adam West, Kirk Douglas, Lee Marvin, Jeff Bridges, David McCallum -you can list the movies the stills were taken from all day!
And, out of pure boredom I thought I'd check the interwebby-thing and see what I could find. Nothing. But then I thought why not use an old German publisher guide. Just a brief mention and then -SF Hefte Deutschland: BINGO!
Now, I can see you sat there and thinking "What has THIS got to do with the post title??"
Okay, a trifle brusque -again- and wanting things explained too quickly but, probably, a legitimate question (I need to change these tablets I'm taking).
Well, in the mid-1980s I thought that I needed a central body that a rotating team of characters could feature in. I had smaller groups of heroes -The Crime Club, Anti-Crime Squad, Crime Busters UK (a team that very nearly made it into a Fleetway comic!) and so on. Global Guardians had featured elsewhere and I almost plumped for my old 1970s Legion of Law Enforcers -which kinda still gets used- but then I thought "Special Globe Guard" -excellent!
As I had bought and read those two Kelter Krimis more than a decade before I had forgotten them. In fact, I have no memory of whether I thought "That's a good name I can use" or thought it was my original idea. Look, I am very, very old. But it stuck.

So when in (I think) 1987 I wrote and pencilled "Earth Scream" I used the SGG -an excellent UK artist, John P. Britton inked over my pencils (that makes him a saint!) and Ben Dilworth lettered. It looks pretty rough now but I still love the team and story (parts 2-4 are lost thanks to a Fleetway editor).
The SGG were, of course, the vanguard in defence of Earth in Return Of The Gods: Twilight Of The Super Heroes -some giving their lives.
But this ramble would not be complete (unless I forget) withought a few of those original 1980s pages -IF blogger allows them to be shown.


I have to say that Oriental Ghost Stories: Tales of Mystery and the Supernatural was a little disappointing. Almost two thirds (or more) deals with Japanese ghost stories rather that Chinese as the sellers indicated. Really -did I think they had read the books?
But Strange Tales From A Chinese Studio has not disappointed. Plenty of good stories, if not what many Europeans might think of as ghost stories. So a lot to go through!
Someone might think that I have forgotten my plan to research Chinese traditional ghost stories in the hopes of producing a number of Chinese Ghost themed comic albums.
I'm hoping Pu Songling's book will fill in a lot of gaps in what I know (they are BIG gaps -come on I have never investigated any Chinese ghosts!). That and Lafcadio Hearn's (apparently he is better known and still respected in Japan) Oriental Ghost Stories: Tales of Mystery and the Supernatural.
Would they ever be as good as some of those old Charlton Horror comic strips set in Japan andKorea and drawn by Sanho Kim?
Oddly, I used to have some Hong Kong horror Manhua but those simply vanished -I mean, who the ----- steals comics they don't understand (unless they were just interested in the art?). Whatever, The Thinker (possibly) presenting some good Chinese horror stories would be fun.
In the meantime I have to find another source to buy Manhua from! It seems the other large Chinese store in Bristol gets newspapers and magazines but not Manhua. Oh the struggles of my life! :-)
This was my original posting on the ideas I had, and still do.
Zhong Kui -The King of Ghosts!
I love Chinese comics and I love ghost stories. I was hoping that I might find inspiration from Chinese comics but, sadly, cannot get hold of any of the horror comics.
It also seems my book of traditional Chinese ghost stories went missing years ago without me knowing.
And with a title like "King of Ghosts" how can you not be inspired?
As related on Wikipedia -I remember the story being MUCH longer- this is how Zhong Kui became....
.... the King of Ghosts!!
According to folklore, Zhong Kui travelled with Du Ping (
杜平
), a friend from his hometown, to take part in the imperial examinations at the capital.
Though Zhong achieved top honours in the exams, his title of "zhuangyuan" was stripped by the emperor because of his disfigured appearance. In anger, Zhong Kui committed suicide upon the palace steps by hurling himself against the palace gate until his head was broken.
During his judgment, the Hell King saw potential in Zhong. Intelligent enough to score top honors in the imperial examinations, but damned to hell because he committed suicide.
The Hell King, judging Zhong Kui, then gave him the title, as the King of Ghost, forever to hunt, capture, maintain and order ghosts. After Zhong became King of Ghosts in Hell, he returned to his hometown on Chinese New Year's Eve.
To repay Du Ping's kindness, Zhong Kui gave his younger sister in marriage to Du.
Yes, the story has the ring of many others over the centuries and then in comic books -Jim Corrigan, cop, gunned down and then resurrected by The Higher Power to combat evil. And Atlas (Seaboard Periodicals) Grim Ghost was a betrayed highwayman, hung and resurrected by Satan to find and bring him evil souls as...The Grim Ghost.
Zhong Kui's popularity in folklore can be traced to the reign of Emperor Xuanzong of Tang China(712 to 756). According to Song Dynasty sources, once the Emperor Xuanzong was gravely ill. He had a dream in which he saw two ghosts. The smaller of the ghosts stole a purse from imperial consort Yang Guifei and a flute belonging to the emperor. The bigger ghost, wearing the hat of an official, captured the smaller ghost, tore out his eye and ate it. The bigger ghost then introduced himself as Zhong Kui. He said that he had sworn to rid the empire of evil. When the emperor awoke, he had recovered from his illness. So he commissioned the court painter Wu Daozi to produce an image of Zhong Kui to show to the officials.
This was highly influential to later representations of Zhong. (see image below)
Forgive my ignorance if there has been a comic book adaption of this story but I think "the BlackTower treatment" is needed. I see a whole Tales of Terror 2015 (volume 5) dedicated to Chinese and Japanese ghosts. Hmm?
But first, those Green Skies need taking care of!
Oh, and if you are wondering about the photos they are of Chinese actress Liu Yifei -also known as Crystal Liu Yifei- in costume promoting the movie Chinese Ghost Story costume. You can find more
Have fun!