Quick up-date. The micro Ant Man figure is being sold on Ebay for between $19-45. The other figures are taken from the packs and going for $65-100 and the case as shown below for $110-130. THAT is 'fan' greed.
_________________________________________________________________________________
Firstly, Hasbro is releasing these anyway. Their greed and disdain for figure buyers as anything other than piggy banks to exploit for their "bucket" (of cash) items was proven at the San Diego Comic Con -and I hope you watched THAT video?
Oh, here are "your" choices":
Pick between Darkhawk, Angela, Symbiote Spider-Man and Mysterio!
The fans at San Diego Comic-Con have spoken. Sixteen Marvel Heroes were up to become the new Marvel Legends figure, but now only four remain! The champions are Darkhawk, Angela, Symbiote Spider-Man and Mysterio and now it is up to you to vote for your favorite and choose who becomes Hasbro's next Marvel Legend!
The decision is in your hands. And to sweeten the deal, you could win a Hasbro SDCC 2015 Exclusive Ant-Man Figure Set signed by Stan Lee!
Yes, they took huge trailer trucks full of free figures for SDCC and had so many even that event was not big enough to throw them all away. Seriously,
That
is how 'exclusive' they were. I do see these freebies on Ebay with asking prices of anywhere from $25-$90.00. Greed
is
contagious.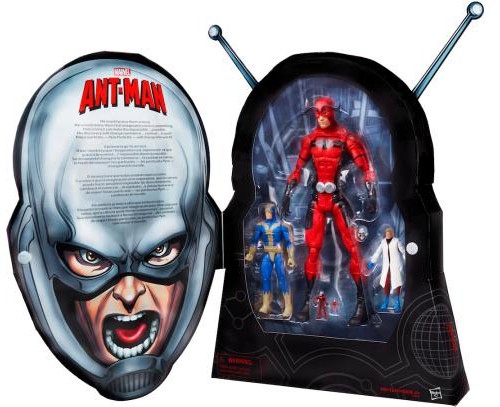 Scale is mostly irrelevant when it comes to the size-shifting superhero, this set's Hank Pym figure is in the 3.75″ Marvel Infinite scale and features swappable heads with and without the Ant-Man helmet. On the larger side of things, there's both a 6″ Goliath and a 12″ Giant Man (the latter wearing the more recent comic book version of the costume) while, in a smaller scale, there's both 1.5″ Scott Lang Ant-Man and a tiny 1″ version of the original Hank Pym Ant-Man costume. The 1.5" version is the one the money is being asked for NOT the larger figures.
You can see the actual set here:
http://marveltoynews.com/hasbro-sdcc-2015-exclusive-ant-man-figures-box-set/