You do wonder about these things.
American comic people have never really shown that much interest in the Valerian comic albums -they were in French after all. However, there are a few who know the character and have read the small selection of English language volumes before (I believe three?).
Valerian and Laureline are European comics legends. I found that out reading the German comic
Zack
in the 1970s and in the 1980s and early 1990s German Small Press titles such as
Zebra
wore their Mezieres and Christin influences with pride.
So, why, you might ask, does Besson (who directed what I called a "modern sci-fantasy movie" -
The Fifth Element-
have to take the Valerian movie to peddle at San Diego Comic con? I was thinking about this at 0300 hrs this morning.
There are big film festivals in Europe so I'm guessing Valerian
has
been featured at one of those. But Comic events? There is Angouleme, of course, but if you go up to most comic buyers and ask "What is Angouleme?" you'll probably get the response: "Is it the new Guardians of the Galaxy villain?" Whereas, if you as "What is San Diego/SDCC?" you will likely get 100% respond "A comic convention!" (it IS also a city by-the-way).
And Hollywood is desperate -
desperate
- for new ideas and avenues to explore...I guess SDCC makes sense.
I also note that Cara Delevingne has received some nasty remarks for her role as Loreline. Before fan trailers or the movie has appeared. These critics are usually men, seem to be American and I doubt whether they have even read the comic albums since some cannot even spell the character name right! These are usually the people who cannot write, draw and certainly will never get a position in a movie company so build up their bile because, and there are a LOT of these turds out there, they think it makes them cool.
Anyway, on with the SDCC post.
Luc Besson & EuropaCorp Heading to San Diego Comic-Con with 'Valerian'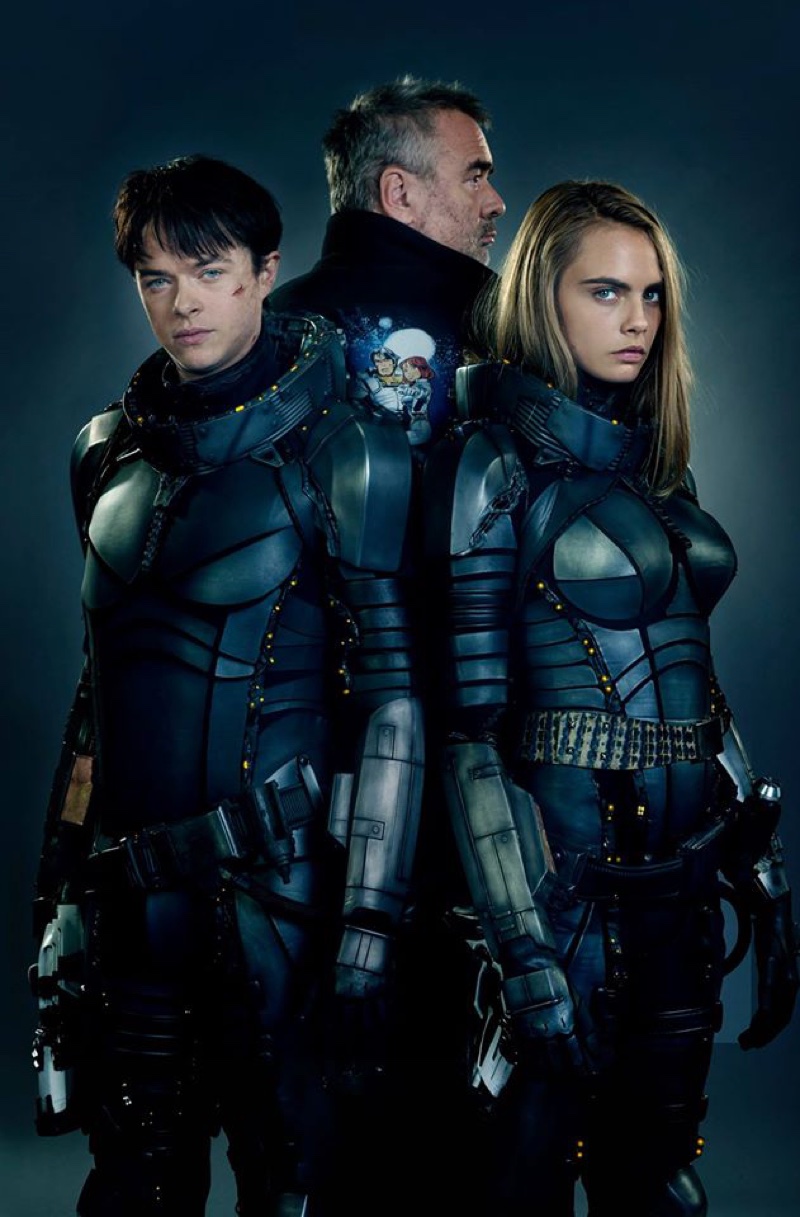 [UPDATE]
The panel for
Valerian
will be held on Thurday, July 21 from 1PM-2PM in Hall H. Along with director Luc Besson, stars Dane DeHaan and Cara Delevingne will also appear. There will also be "potential surprise guests" to give the first public sneak peek at the film.
The Hollywood Reporter is reporting
that the upcoming 2017 Luc Besson film,
Valerian
, is heading to San Diego Comic-Con.
Although Besson and his studio EuropaCorp made a splashy premiere at the European film showcase CineEurope last year, and many expected them to return in 2016 – EuropaCorp marketing manager Bruno Perez told THR that "Besson would be returning to Comic-Con again in July with exclusive footage from the shoot" for upcoming film
Valerian and the City of a Thousand Planets
.
Besson actually
did
attend Comic-Con in 2015 to show off
Valerian
already – just not to the masses. Instead,
he gave a small gathering of journalists in town a private showing of some footage
, and stated that he wasn't ready to show everyone just yet. Looks like that time is going to be next month.
Set in the 28th century,
Valerian
follows a duo of special government operatives played by Dane DeHaan and Cara Delevinge , as they try to maintain order throughout the universe. They embark on a mission to the breathtaking intergalactic city of Alpha, an ever-expanding metropolis inhabited by thousands of species from all four corners of the universe. Alpha's seventeen million inhabitants have converged over time – uniting their talents, technology and resources for the betterment of all.
Unfortunately, not everyone on Alpha shares in these same objectives; in fact, unseen forces are at work, placing our race in great danger. The film also stars Clive Owen, Ethan Hawke, Rihanna, and John Goodman.
While
Valerian
just wrapped and likely won't be able to fill a complete hour of programming in (what we assume will be) Hall H, EuropaCorp also has the upcoming
Shut In
(a physchological thriller starring Naomi Watts and Oliver Platt) and
The Lake
(starring J.K. Simmons and Sullivan Stapleton, about a team of Navy SEALs searching for hidden treasure in a Bosnian lake).
In addition to last year's private screening for journalists, Besson also appeared at Comic-Con International's WonderCon Anaheim convention in 2014, to promote
Lucy
.
You can read the full article on The Hollywood Reporter
.