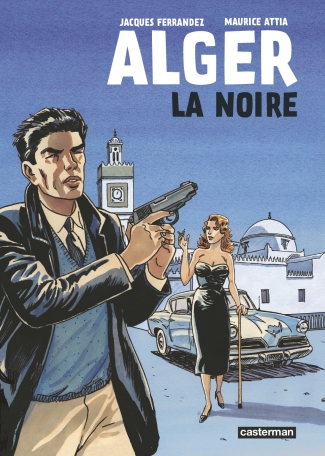 Alger La Noire/Algiers the Black
Authors: Maurice Attia , Jacques Ferrandez Collection: Universe of authors
Soft cover
Full colour
Dimensions: cm 600.1×0.2×860
Pages: 136
Price: € 18.00
ISBN: 2203045655
EAN: 9782203045651
Release Date: 28/03/2012
Algiers in January 1962. On one of the city's beaches are found the naked corpses of a couple embracing. The female is European while the man is Arabic: he has been castrated and cut into his back are the letters OAS (Organisation de l'armée secrète or Organisation Armée Secrète, was a short-lived, French far-right nationalist terrorist organization during the Algerian War (1954–62).
A crime made more difficult to investigate because of the political intrigue and hotbed of revolution. But are the murders of Estelle and Mouloud hiding something else? Escaping from the dull routine of his police station of Bab El Oued, the inspector conducting the investigation, Paco Martinez, flanked by the irrascible Choukroun, the old Jewish cop who serves as his mentor, carry out their investigation.
An investigation punctuated by bombings and the settling of accounts, lead them behind the scenes and many bleak backyards of the city; between political passions, racketeering, robbery and the obviously all pervasive violence. With all this going on "White Algiers" might as well be called the "Black Algiers."
This is truly a very dark thriller based on the novel by Maurice Attia.
For some reason I have always had a fascination for the Algerian war for Independence. Primarily through my interest in military history. My first introduction to the conflict was via two movies, the classic
The Battle Of Algiers
and
Lost Command
(both made in 1966). The latter film, starring Anthony Quinn and with French military advisors, was banned in France for ten years. How important Algeria was to the French and all its ramifications (it was considered an integral part of France) can be seen by the attempted assassination French President Charles de Gaulle on 22 August 1962, following Algerian independence. French Airforce lieutenant-colonel Jean-Marie Bastien-Thiry was a military air weaponry engineer, (creator of the Nord SS.10/SS.11 missiles) who attempted the assassination. Sentenced to death he remains the last person to be executed by firing squad in France on 11 March 1963.
There is much more but this is running into a history lesson –though it does show the importance and turmoil of Algeria at the time this story is set. This is violent and there are other adult scenes and the fate of Choukroun is…well, buy the book and you'll see. It is a powerful book and one that would make a great movie.
The art is never overdone but gives you a feel for the period and location and the wonderful water-colour/ink wash is used to great effect. It's a great thriller and even greater graphic novel/BD and deserves a lot of attention.